Swing Trading BLOG – Swing Trading BOOT CAMP

And UP we go!!! (Again!)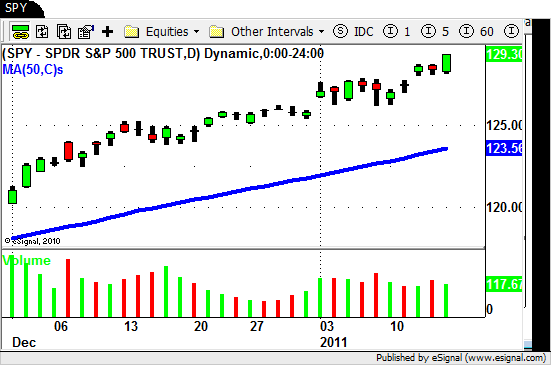 After a week of increased selling last week we watched as the market rallied (again) to NEW HIGHS!
In last weeks BLOG POST we told you that we were concerned coming into this week because of the selling we witnessed last week.
One sector that we mentioned was the Semiconductor sector ($SMH).
Last week a few stocks in this sector had some BIG TIME selling going on.
$LRCX, $ATMI, and $NVLS we the names that we mentioned.
As we came into this week we were watching to see how these stocks and the Semiconductor ETF were going to trade.
Monday was a good indication that this sector was starting to move higher again.
After showing a bit of weakness last week this new move to the UP side could be merely a "retrace" after the move down.
When Tuesday came around and we watched as the volume increased to push most of these stocks (and the ETF) higher we figured the sector had found its legs once again.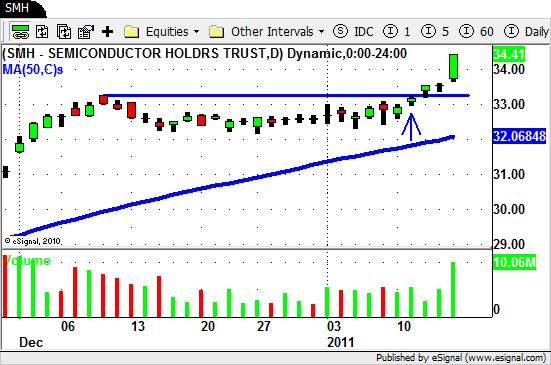 That being said we still were NOT looking to take any trades in these specific stocks due to their weakness last week.
The were plenty of STRONGER sectors for us to watch so we simply took notice of the change in sentiment in this sector and will watch for follow through next week.
The sectors that we mentioned last week that were "holding up well and worth watching" all turned in a nice week.
The FInancials (XLF), Hombuilders (XHB), Broker/Dealers (IAI), Agriculture (DBA) and Energy (XLE) and Oil (OIH) provided us plenty of opportunity this week.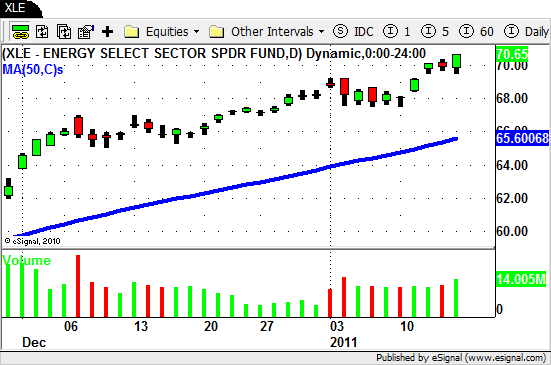 As we enter into next week we are once again in FULL RALLY mode.
Our plan (as always) is to stick with the strong sectors and avoid the weak ones.
Until next week…Good Trading to YOU!
Tags: ETF Swing Trading, Financial ETF, IYF, OIH, Retail ETF, Sector ETF's, Swing Trading, Swing Trading Blog, Swing Trading Chart Patterns, Swing Trading Price Action, Swing Trading Volume, Trading Volume, XLE