Swing Trading BLOG – Swing Trading BOOT CAMP

The new year is HERE!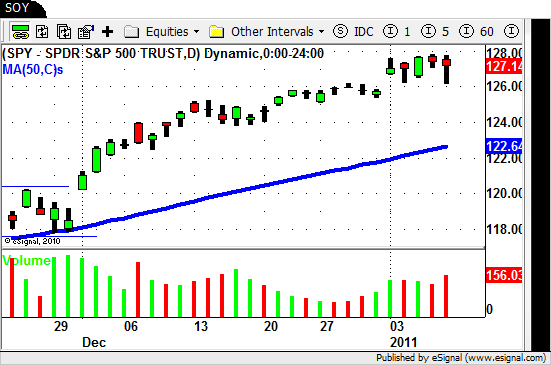 On a positive note the market continued to rally to NEW HIGHS this week.
On a different note we are starting to see some signs that concern us moving into next week.
One of the biggest things we have noticed this past week is that the SELLERS are becoming much more aggressive at these levels.
This has been evident in many of of the individual stocks that we monitor each and every day.
Take a look at some stocks like ATMI, LRCX, and NVLS in the Semiconductor sector.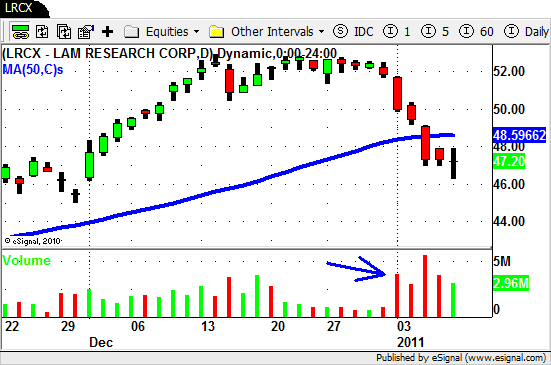 The Retail stocks have also taken a hit this week.
Look at ANN, M, TIF and TGT (to name a few).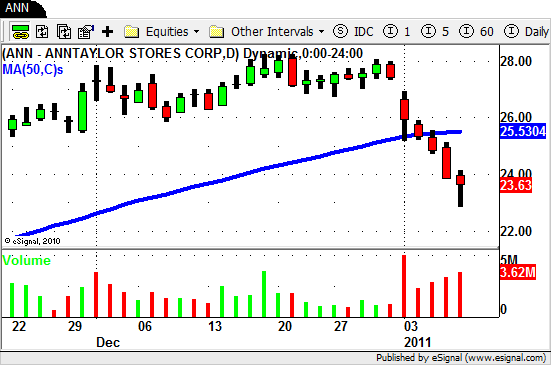 We also take notice of the fact that some of the recently strong sector ETF's have shown a bit of weakness as the overall market moved higher this week.
As expected the Retail ETF's (RTH) are fist on this list.
Gold (GLD) and the Gold Miners (GDX) also got whacked this week.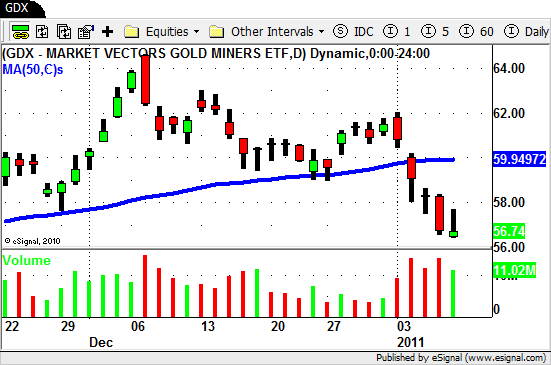 With the noticeable selling coming into some of the Semiconductor stocks we are anxious to see watch next week has in store for this sector ETF (SMH).
Some of the other sector ETF's are holding up very well and are worth watching next week.
The FInancials (XLF), Hombuilders (XHB), Broker/Dealers (IAI), Agriculture (DBA) and Energy (XLE) and Oil (OIH) are on this list.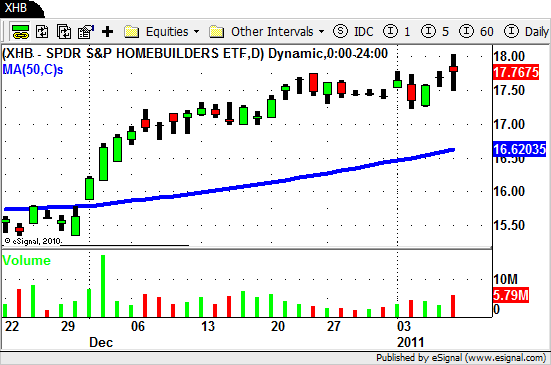 The number of sectors on this list is evidence of the overall strength of this market BUT there are signs that are a bit concerning for us.
Next week should be a good indication of where we go from here.
Sooner of later a PULLBACK will be upon us.
With that in mind make sure you have a plan in place so you can benefit (in one way or another) when the PULLBACK comes.
Until next week…Good Trading to YOU!
***********************************************
P.s – You can sign up for our FREE Weekly Swing Trading Newsletter by submitting your name and email address HERE!
Tags: DIA, ETF Swing Trading, Financial ETF, OIH, Retail ETF, Sector ETF's, Swing Trading, Swing Trading Chart Patterns, Swing Trading Volume, XLE, XLF