Swing Trading BLOG – Swing Trading BOOT CAMP

The SANTA CLAUS rally continues!
The holiday shortened week saw the market push higher although both VOLUME and VOLATILITY were less than impressive.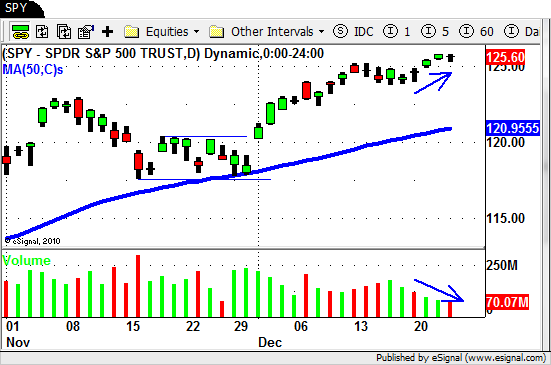 So what do we do from here?
No one knows for sue but a move on significant volume should give traders a clue.
As far as Sector ETF's go we are seeing the most of the strongest sectors continue to "drift" upwards.
Retail ($RTH), Energy ($XLE), Oil ($USO) and Oil Services ($OIH) all had a decent week.
Agriculture ($DBA) had a nice move this week as it moved to a NEW YEARLY HIGH.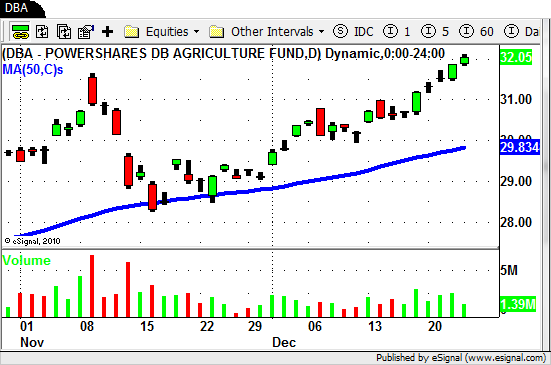 Despite the "stall" on Thursday the Financials ($XLF), Broker/Dealers ($IAI) and the Homebuilders ($XHB) a nice move as well.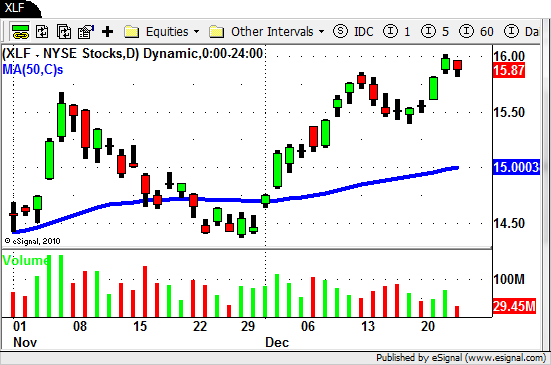 With a few exceptions most of the individual stocks on our Watch List followed the markets lead.
The lack of VOLUME lead to a lot of sideways trading this week.
Target ($TGT) and Carnival Cruise Lines ($CCL) were two stocks that provided us with nice LONG trade setups AND followed through nicely to close the week.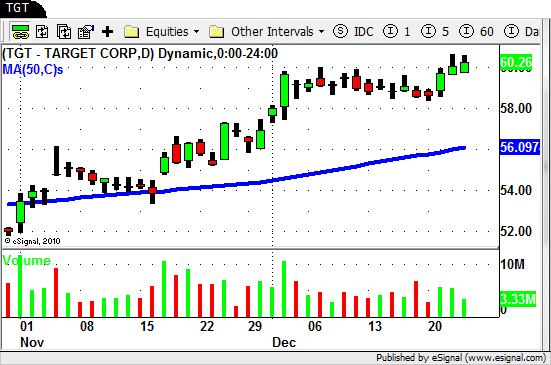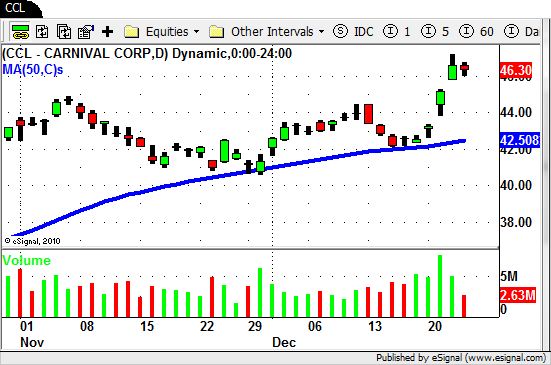 As this nice move in the market continues the lack of VOLUME and VOLATILITY that we have mentioned in this post is a sign of caution as we move into next week.
The momentum has slowed a bit but that doesn't mean that it cant continue next week.
The only thing we can do as traders is to prepare ourselves for whatever the market decides to do and take the appropriate action.
Until next week…Good Trading to YOU!
Tags: DIA, ETF Swing Trading, Retail ETF, Sector ETF's, Swing Trading, Swing Trading Blog, Swing Trading Chart Patterns, Swing Trading Price Action, Swing Trading Strategies, Swing Trading Volume, Trading Volume