NEW HIGHS…YET AGAIN!
Last Friday when the news came out about Goldman Sachs a lot of traders (including us) started to wonder if the market would finally pullback after a bit of negative news.
Well this week the market spoke LOUD and CLEAR by finishing a strong week at NEW HIGHS for the year.
That makes this an almost 1400 point rally since "that reversal day" which happened on February 5th.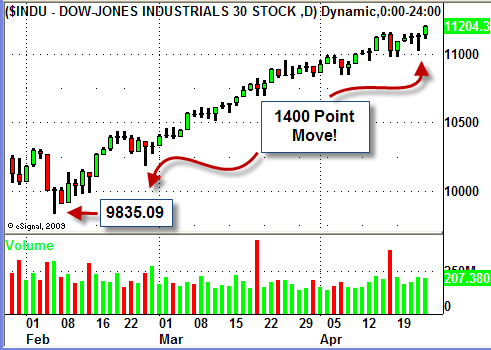 As far as individual sectors go the FInancial ETF's (XLF, IYF, IAI) all had a strong week but DID NOT make news highs with the market.
The Semiconductors ETF (SMH), which broke out last week, had a lackluster week but we will continue to watch for follow through to the upside.
The Oil services (OIH) and Energy ETF's (XLE) finally broke to the upside this week.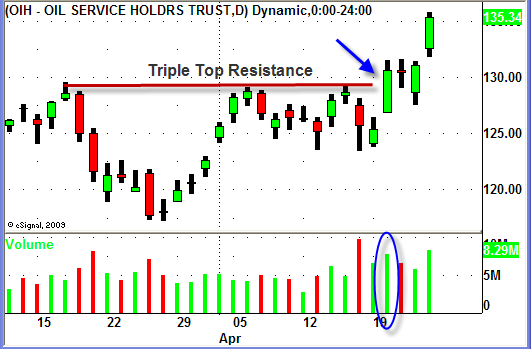 A few weeks ago in this blog we posted about the relative strength we were seeing in the Homebuilders ETF (XHB).
This week XHB setup another very nice swing trade opportunity.
We posted the details about the trade HERE but lets look at the chart.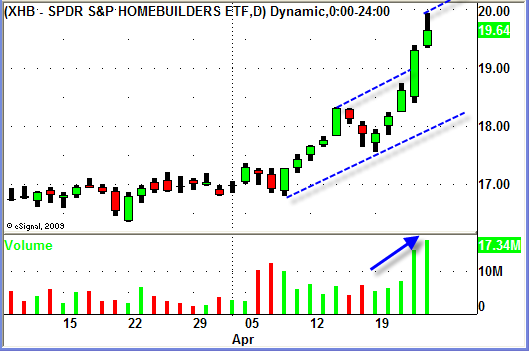 With the market being this strong there were a TON of individual names that were UP strong this week.
The Retail sector was particularly strong with stocks like JWN, SKS, TIF and several others having a great week.
So will the incredible strength in these sectors and the overall market continue as we move into next week?
Of course no one knows for so just continue to listen to the market and position yourself accordingly.
DO NOT get complacent and let your guard down.

Follow your plan and your trading rules and be prepared for ANYTHING.
Until next week…Good Trading to YOU!