A pullback in market this week but what an interesting pullback it was!
The markets opened this week with a low volume lackluster Monday.
Tuesday the market popped out of the gate but quickly rolled over confirming the retrace was underway.
As we noted last week we entered into several new SHORT positions by the close on Friday.
These SHORT positions (AMSC comes to mind) sold off nicely with the market and we booked profits on most of these trades.
Wednesday price "stalled" on low trading volume again creating an "inside day".
Then on Thursday things got a little interesting…

The market gapped down BIG TIME on Thursday but buyers stepped in and the market rallied strong and closed near the high of the day on BIG VOLUME.
Then the week finished off with a low range, choppy day on Friday.
A few interesting things to note here.
During this most recent pullback we saw the buyers step into the market when prices retraced "far enough" and drove prices right back up.
There was only one day, Tuesday, when the market closed BELOW the swing high of 10314.84 that was put in on February 2nd.
We told you last week that until the week shows us which way its going we will continue to play both sides of the market.
Thursday's price action had us looking to the LONG side and we were able to find several strong stocks with chart patterns that were just too good to pass up!
One sector really shined that really shined this week?
RETAIL!

Yes retail…the RTH…broke its DOWN TREND CHANNEL last week and after a mere one day pullback on Tuesday it rallied nicely right into Friday.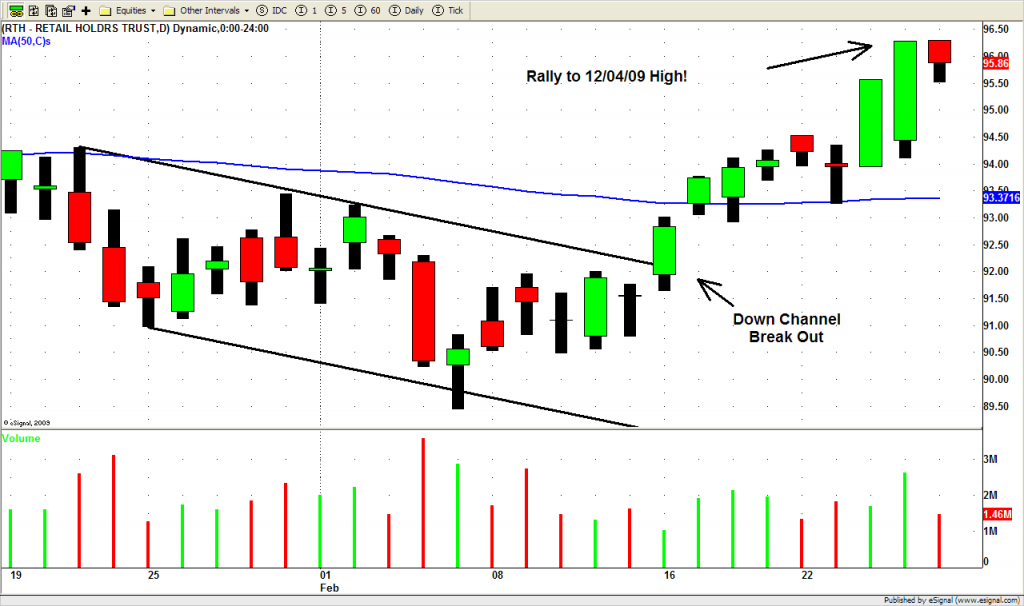 TIF, M, HD and ANN all had nice UP moves this week.
On the other end of the spectrum is the SOLAR sector.
The SOLAR ETF, symbol TAN, continued its downward spiral finishing just off the low of year.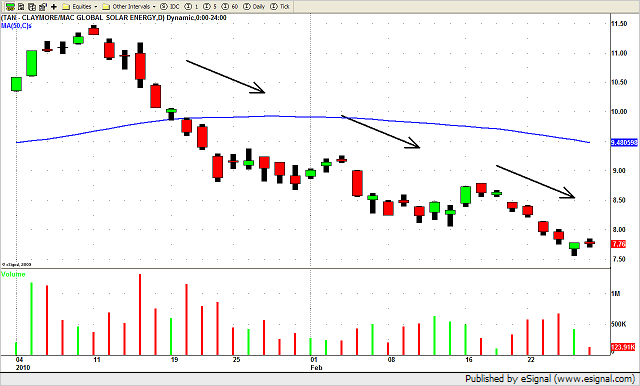 So once again we find ourselves at a crossroads.
UP or DOWN?
LONG or SHORT?

Want our opinion?
We say….WHO CARES!

Have a great trading plan in place and be prepared for whichever way the market goes from here.
If you are getting whipsawed in this current environment then reduce your trading size or even sit on the sidelines until YOU see the trading set ups that make the most sense to YOU and your trading style!
Hopefully next week we can get some follow through one way or the other.
Until next week…Good Trading to YOU!