After making NEW YEARLY HIGHS on Monday the market finished down almost 1.8% this week.
Sellers came out in force on Tuesday but the market quickly rebounded Wednesday and Thursday.
The low volume "rebound" came to end on Friday as sellers stepped in again creating a sell off that drove the market down right until the closing bell.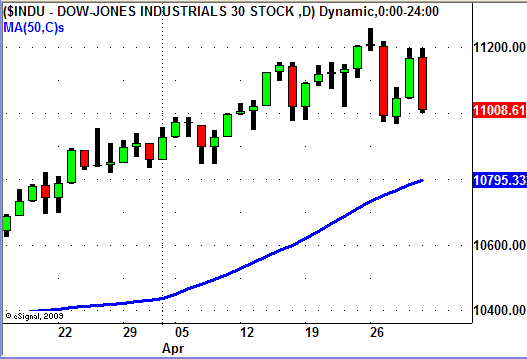 As far as individual sectors go, the Financial ETF's (XLF, IAI, IYF), all made another move lower this week.
We have been watching this sector closely since the negative news came out about Goldman Sachs.
Last week we noticed, and posted to our blog, that the Financial ETF's were not showing much strength as the market made its move up on Thursday and Friday.
The follow through to the down side started on Monday allowing us go LONG the Inverse Financial ETF (FAZ) for a nice short term swing trade.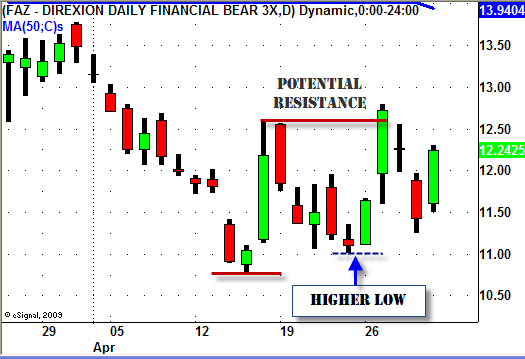 After hitting resistance at the short term double top FAZ pulled back a bit and continued its UP move on Friday.
Another sector we have been watching closely is the Steel sector.
We began to notice the Steel ETF (SLX) was possibly running out of steam during the market move to new highs on April 14th and 15th.
SLX never made it to new highs as the market rallied and actually begin to sell off as the market made its new high on the 15th.
The weakness continued last week and as the market again rallied to NEW HIGHS by Friday, SLX made an unimpressive bounce off of the 50 Day SMA.
When the sellers stepped in on Tuesday this week SLX sold off right out of the gate and never looked back.
The "Gap Down and Go" as we call it created a "lower high" and was a good opportunity for a SHORT Swing Trade in this sector.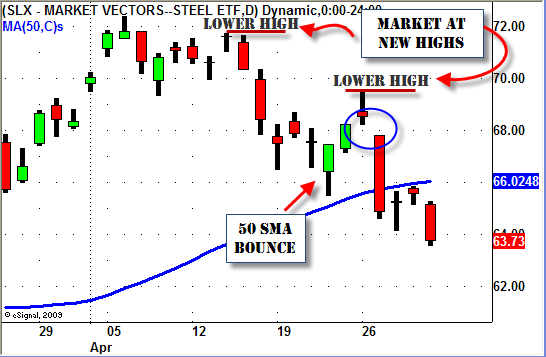 So what do we do going into next week?
With the market putting in its first significant "lower high" this week we will continue to look for signs of follow through to the down side.
As always though we will continue to look for opportunities on both the LONG and SHORT side of the market just in case the market finds its legs again and makes a run back towards the highs.
Just remember that being prepared for ANYTHING and EVERYTHING increases your chances of trading success.
Until next week…Good trading to YOU!