Swing Trading BLOG – Swing Trading BOOT CAMP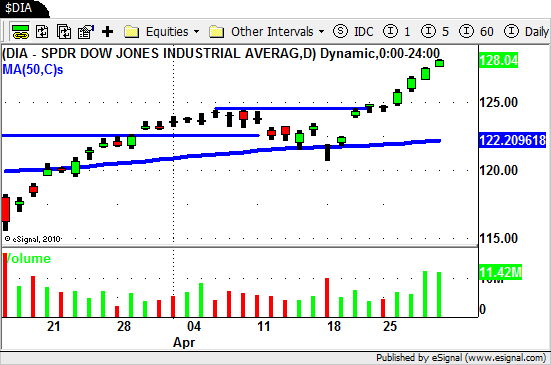 UP, UP and Away!

The markets continued to rally this week as the DJIA and the S&P 500 traded to NEW HIGHS!
This was a great week for Swing Traders.
Not simply because the markets went higher but more importantly it was the WAY that they moved higher.
There were some great chart patterns to trade this week and most of them played out in text book form.
The price action and volume swing trading techniques that we use (and teach) painted a crystal clear picture this week.
Want to see what we mean?
We have been focused on the Gold and Silver ETF's lately and $GLD had a great chart pattern to trade this week.
Here is a look at the chart…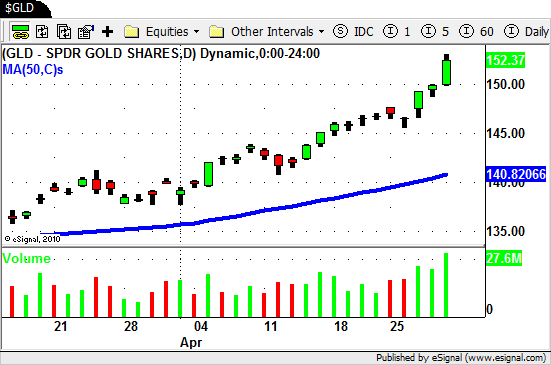 Learning how to read price action AND volume together is a powerful skill set to add to your trading.
The BLACK lines on the chart below are "pullbacks" in the obviously strong, trending Gold ETF.
This weeks "pullback" actually consisted of two days…a high volume reversal day on Monday and day that traded lower on Tuesday.
Wednesday offered another opportunity for Swing Traders to enter into this rally.
The GAP UP was the first clue that the next move higher was upon us.
The opening price ($147.38) on the GAP UP was just below the previous Swing High set on Monday ($147.58).
By NOON time $GLD was rallying through that previous Swing High and the VOLUME was flowing into this ETF.
$GLD continued to rally the rest of the week and the VOLUME that accompanied the move was exactly what we like to see in a strong move.
There were several great examples of strong stocks with great chart patterns to trade this week.
Stay tuned to the BLOG and we will post some of the other trades we made.
Until next time….Good Trading yo YOU!