Swing Trading Blog – Swing Trading Boot Camp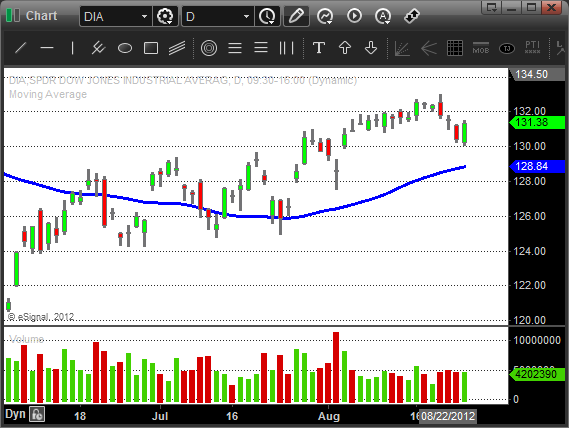 Traders got the much anticipated pullback that they have been waiting for this week.
The week started off the a lackluster Monday but Tuesday traders flipped to the SELL SIDE after pushing the market up in early morning trading.
After two more days of selling pressure the market finished the week with a nice up day on Friday.
The type of price action we saw in the market this week came as no surprise since we were trading back up in the area of the yearly highs we reached earlier this year.
Here is the weekly chart of the $DIA that we have posted for the past few weeks on our blog…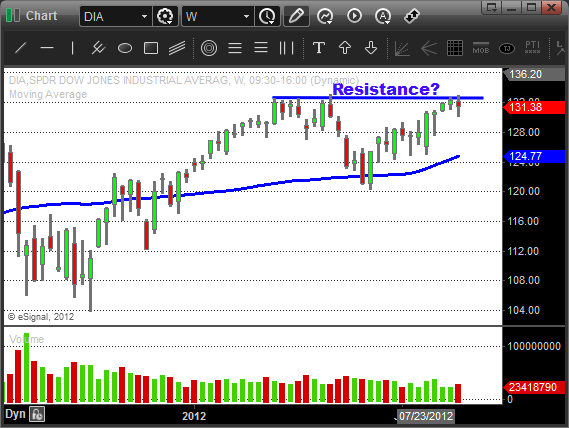 You can see from the chart above that the market has some significant potential resistance in this area.
This creates a bit of an issue for some traders.
Do you get or stay LONG knowing that resistance level is directly ahead? Or do you wait to see how the market reacts to this area and possibly miss the breakout?
Well if you follow us on our blog or newsletters you will know how we do it.
We simply trade our plan and never try to outguess the market.
We have learned after years of trading that the market is always right.
As cliche as that sounds… it's true!
We trade our setups as they happen and never don't take trades based on what we think MAY happen.
Could we look back after the fact and wish we had done differently? Of course but as they say hindsight in always 20/20.
We have stops in place and a sound money management strategy so we let the do there thing.
If we are wrong we simply take our loss and move on and reevaluate.
If we are it is a very similar almost robotic process.
We exit at our profit target and move on and contemplate our next move.
Simply put we have a plan and we stick to it no matter what.
That being said as we look through the charts for this week we see lots of trades to the LONG side.
Most sectors are still strong with Retail ($RTH) breaking out again on Friday.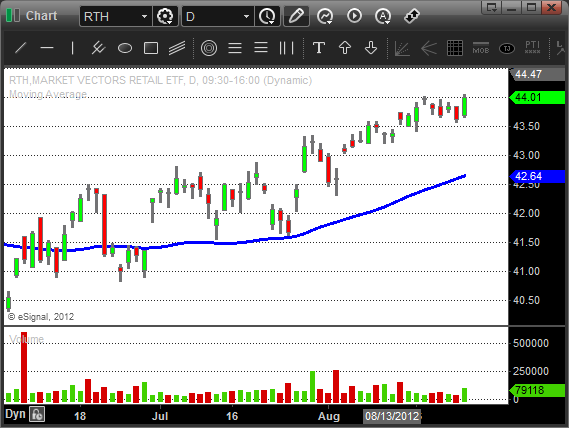 Technology and Oil and Energy remain strong while the Homebuilders and Financials are on the move again.
The Silver and Gold sectors RIPPED to the UP side this week so keep an eye on these ETF's and stocks in this sector…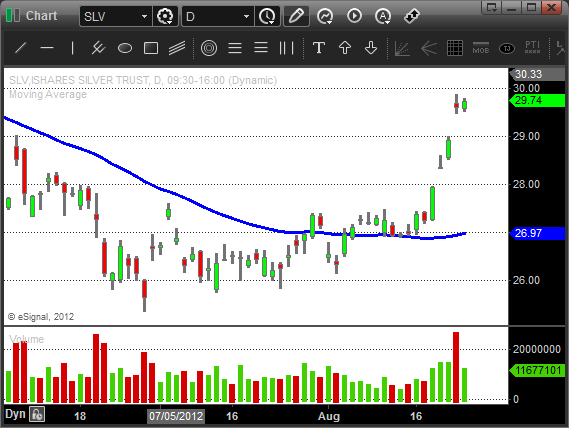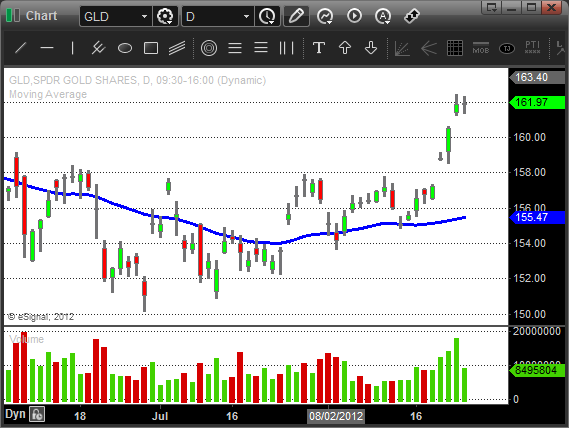 The market is likely to come out swinging Monday morning so be ready and have your plan in place.
Watch price action and volume for clues to where the market is headed next.
Until next week…Good Trading to YOU!