Swing Trading BLOG – Swing Trading BOOT CAMP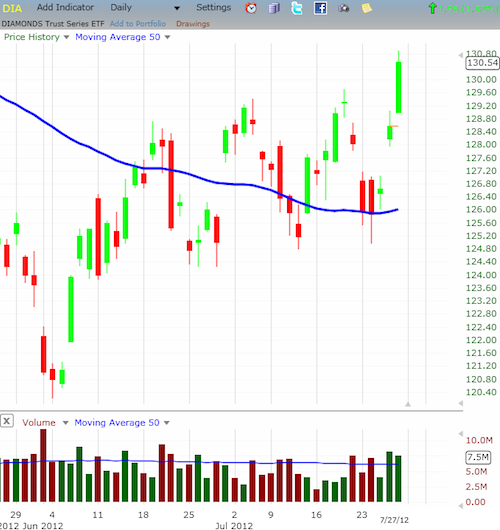 And off we go!
Traders watched as the recently stop and go market finally got up and went.
After weeks of indecision (with a bullish skew) the markets finally picked a direction in a big way this week.
The most recent pullback brought the market back (once again) to their 50 day moving average to start the week.
After finding some support there the market once again found its footing and moved back up on Thursday.
Friday traders watched as the markets GAPPED UP and finally broke out above there short term overhead resistance levels.
The chart pattern was sound.
The support at the 50 day SMA. Confirmation of a higher low on Thursday. Continuation and BREAKOUT on Friday.
The UP TREND continues!
As a swing trader you have to recognize these chart patterns and take action when they present themselves.
Although the overall market has been a bit chaotic you should have had some on the strong stocks and ETF's on your Watch List.
Once you noticed the potential of the market finding support around the 50 day you had to start thinking about the LONG side of the market.
ETF's that have been STRONGER than the overall market and a good place to start.
Take a look at the Oil and Energy ETF's ($XLE $OIH).
Stronger than the market and great chart patterns to trade.
Look at the charts. Study them. Take a look at the price action and volume. Damn near perfect patterns to trade.
Drill down to find some stocks in those sectors and you find the same thing.
$MRO and $SUN had some nice follow through after pretty text book setups.
Once again price action and volume paint a very clear picture.
The Retail sector ($RTH) also broke out to NEW HIGHS this week.
We have been talking about $WMT for weeks and this week had yet another opportunity for a profitable swing trade.
There are still plenty of "lagging" sectors but if the market continues to strengthen you might look for clues that these sectors are turning.
This most recent move in the market brings us back up to a level that will obviously entice some sellers.
Don't be afraid that you will miss the bus if you are looking to get long.
Let the trades come to you and take action once they do.
Pay close attention to the clues (price action and volume) that the market gives you and be prepared for anything.
Next week should be fun!
Until then…Good Trading to YOU!