Swing Trading BLOG – Swing Trading BOOT CAMP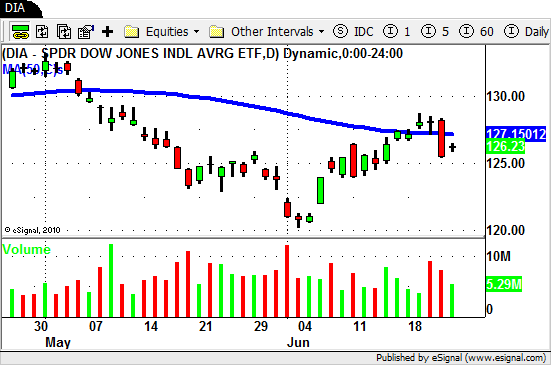 The markets continued to drift upwards (on low volume) to start out the week bringing the DJIA just above its 50 day SMA.
Wednesday was a different story as the news the market was waiting for finally came out.
The sellers showed up in a big way in the afternoon and followed up on Thursday with a day full of selling pressure.
Friday we watched as the market traded sideways creating a low volume "inside day".
Last week we told you that "One side will win the "tug of war" and you will miss the moves if you aren't ready."
Once the news came out you had to expect a dramatic move one way or the another.
Being prepared for anything (as we say over and over and over) is a key to becoming a successful trader.
If you had a SHORT list prepared then I am sure your triggers were hit either late Wednesday or sometime on Thursday.
With plenty of weak stocks out there I am sure you had plenty of options.
The Energy, Oil, and Oil Services sectors have been extremely weak so that was a natural choice.
$SLB $HES and $HAL had great chart patterns to trade…
Some of the Retail stocks ($M $BBBY $RL ) also got smacked around despite the strength the overall sector is showing.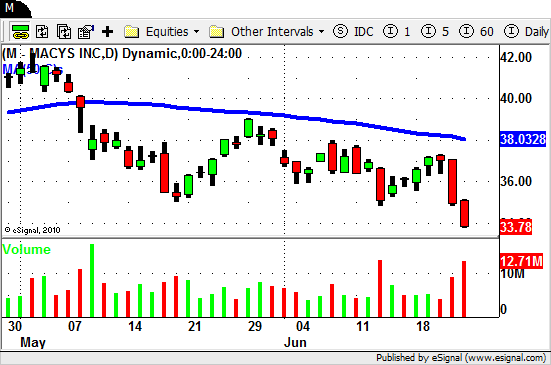 Despite all the doom and gloom talk there are actually (for now) still stocks showing a tremendous amount of strength.
The sectors vary but take a look at the charts for $VZ $CRUS $LLY $ASH $V $MMR and $WFM.
So what is trader to do from here?
Go LONG the strong stocks? Or go SHORT the weak stocks?
As always it depends on your personal strategy but when the overall market is hoovering near its 50 day SMA we tend to play both sides of the market.
For our STS trades we will SHORT the weakest of the weak and BUY the strongest of the strong and leave everything else alone.
We are looking for SHORT TERM moves here…we are NOT position traders.
Often times one side will STOP US OUT when the market does make a definitive move but that is a good thing for us.
We then have more conviction and can look for more trades that are now going in the direction of the market.
Don't be afraid to make trades and to get stooped out….it's a big part of trading and it happens often.
Next week the market should give us additional clues to it's "true" direction so, as always, be prepared for anything (heard that before?).
Listen to the market and act accordingly.
Make your entries, set and honor your stops, take your profits. Rinse and repeat.
Until next week…Good Trading to YOU!