Swing Trading BLOG – Swing Trading BOOT CAMP

As the holiday shortened week came to end the markets appear to be a bit indecisive about which way they want to go from here.
The market was a bit choppy this week with a big GAP DOWN on Tuesday and then a big GAP UP on Wednesday.
The market of course was closed on Thursday but hen Friday morning rolled around traders we confronted with yet another GAP DOWN.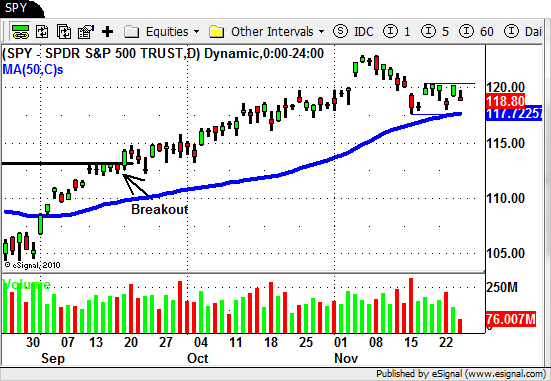 This "choppy" price action is a bit to be expected during a holiday week so it should be interesting to see what happens when we open for trading on Monday.
Last week we told you that our belief is that we are at a pivotal point in the market and this week has done nothing to change our mind.
All three major indices are still trading above their 50 day SMA's and some of the individual sectors are acting very well.
This is a good sign for the "Bulls".
On the flip side though is the fact that we are continuing to see more SHORT trade setups then we have in awhile.
It feels like the "Bears" are sitting on the sidelines and licking their chops waiting for the time to pounce.
Like we said last week how the market follows through from here will be the key.
Make sure you have a list of possible SHORTS and LONGS for next week.
Be prepared for whatever the market does from here and simply take action when it does.
Until next week…Good Trading to YOU!