Swing Trading BLOG – Swing Trading BOOT CAMP

Well we FINALLY got the directional move in the market that everyone has been waiting waiting for.
The BREAKOUT we saw on Monday was quickly followed by a 3 day shallow pullback which had some traders thinking the market was up to it's same old tricks.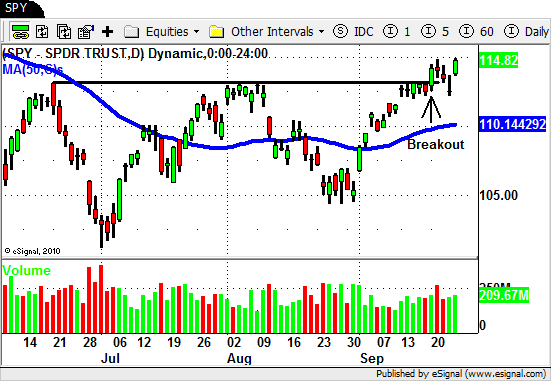 With the way some of the individual sector's were acting we were actually thinking the same thing.
After holding up nicely for so long the Real Estate sector ETF (IYR) broke out with the overall market on Monday.
For the 3 days following the BREAKOUT sellers aggressively came in and drove this ETF well below the level of last week's consolidation.
Here is the chart…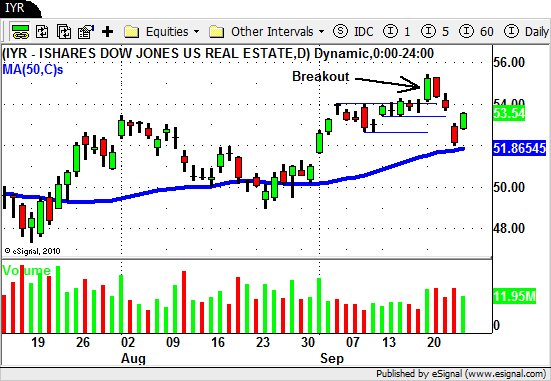 You can see how this BREAKOUT failed and stopped us out (and a lot of other traders I would assume) as it retraces all the way back to it's 50 period SMA.
A swallow pullback in lines with the overall market was expected from such a strong ETF so this type of price action was not only frustrating but concerning as well.
The Energy sector ETF (XLE) had similar price action after giving us a LONG signal on Monday.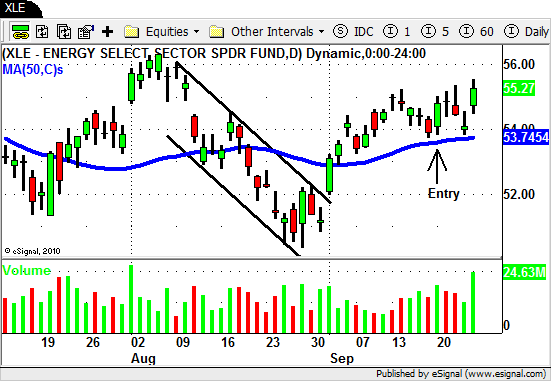 The retrace that followed created an "equal bottom" and came very close to our initial STOP LOSS level.
Friday XLE continued it's move up as the overall market BROKE OUT again.
The Retail sector ETF (RTH) continues to be the rock star!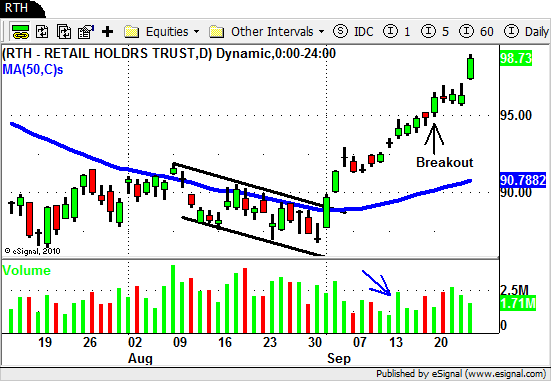 Even after being short term OVERBOUGHT we saw RTH break to the UPSIDE Monday.
RTH then created a nice swallow, almost sideways consolidation during the 3 days that the overall market pulled back.
Friday the strength in this sector continued as RTH gapped up and traded through the $94-$96 level we mentioned last week.
One sector in transition this week were the Semiconductor's.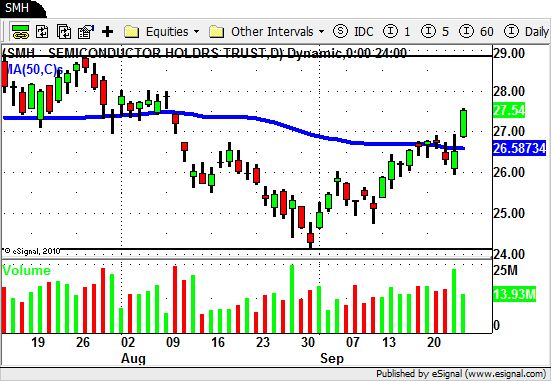 The SMH has been a real laggard but this week we saw buyers step in a finally bring this ETF back above it's 50 day SMA.
Although CREE and SNDK did result in new SHORT trades for us early in the week overall this sector seems to have found some new strength.
KLAC and NVDA stand out so we will watch some of the other stocks in this sector as we move into trading next week.
Friday was one of those days that there were so many trades that were triggering that it was hard to keep up!
We saw a ton of stocks BREAKING OUT and some stocks that just continue to RIP to the upside without even taking a breather.
Amazon (AMZN) opened this month at $126 and has gone straight up since then!
No retrace, no pullback just a parabolic RIP up to (so far) $160!!!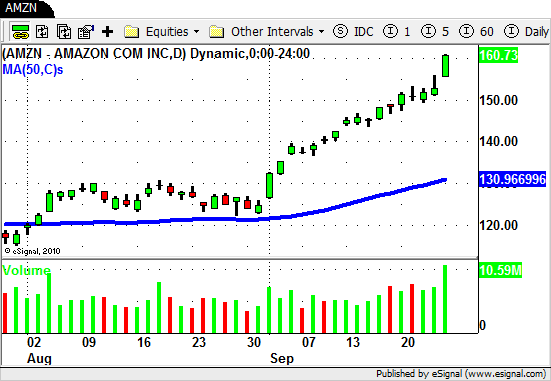 Apple (AAPL) has basically done the same thing by going from the $240's straight up to close above $292 on Friday!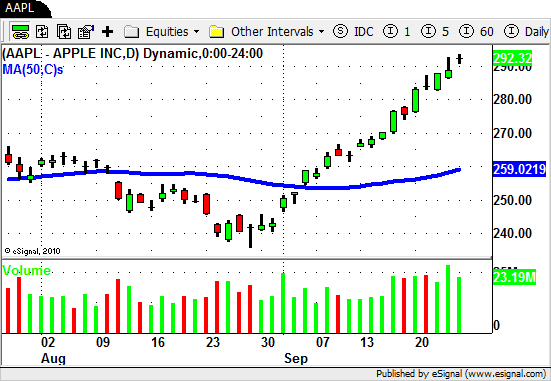 Some of the BREAKOUT stocks our list included AGU, MMR, CCJ, INFA, HAL, SMG, WYN, NTAP, QCOM, CMI, EQIX and our recent money machine SOHU.
Not our entire list but a good list of stocks to watch as we move forward the next few weeks.
There were also a TON (way too many to list here) of non-breakout LONG trade setups last week.
This is a good sign of overall strength in the market and much better than just one or two sectors leading the way.
All in all the market is looking stronger and stronger but as always FOLLOW THROUGH will be the key.
Although there are a few stocks on our list that look weak it is hard to make a case for getting SHORT in light of the recent strength the market has shown us.
That being said we will continue to do what we do each day and prepare accordingly for each and every outcome that the market can present us.
Doing so allows us to react accordingly (and hopefully profitably) when the market decides what to do next.
Until next week…Good Trading to YOU!