Buyers at the 10,000 level in the DJIA!
As the market drifted lower early in the week we saw a lack of follow through to the DOWN side as buyers stepped to hold the DJIA near 10,000.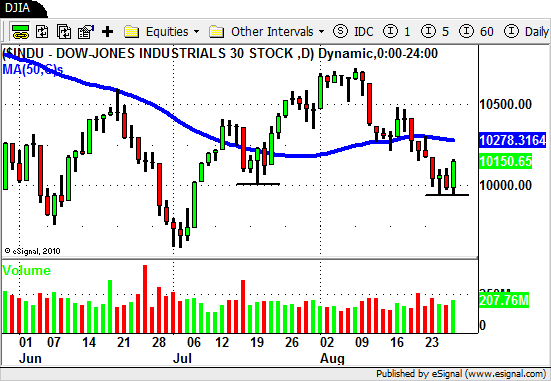 In last week's BLOG POST we said that we were seeing some signs of the market holding up and questioning the strength of the recent move lower.
Although the Nasdaq did finally confirm it's lower low the move down consisted of a GAP lower and more sideways trading rather than a nice orderly sell off.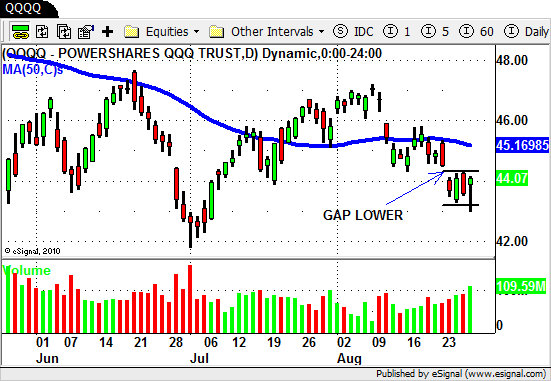 The good news for us was that even though we saw sideways trading in the overall market some of the weak stocks we had positions in continued to move lower.
The is one of the benefits of identifying the weakest sectors and stocks when the market is showing signs of losing strength.
SLB, NBR and BHI all ended up being nice trades that drifted lower until they began to retrace on Friday.
We also posted about the GOLD sector last week.
The GOLD MINERS have been strong and the stocks we listed in last weeks post all had a very nice UP move this week!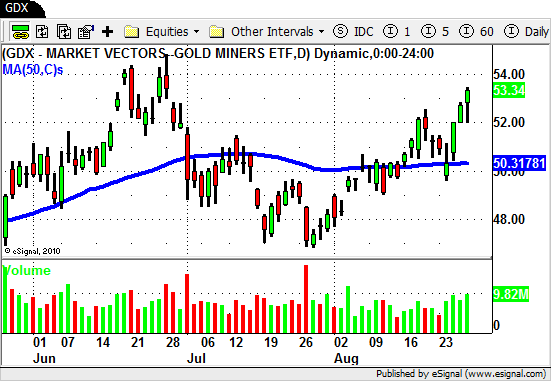 EGO, ABX, NEM, AEM and of course GDX (Gold Miners ETF) offered some nice chart patterns to trade.
Looking forward to next week we see a few interesting chart patterns in some of the other sector ETF's.
The Agriculture ETF's (DBA and MOO) continue to outperform the market.
They could be ready for their next move UP after this recent pullback.
Stocks to watch are POT, ADM, DE, MOS, MON, AGU and CF.
The Semiconductor's (SMH) remain weak and have started to retrace off of the previous year low.
Here is the WEEKLY chart for a better view…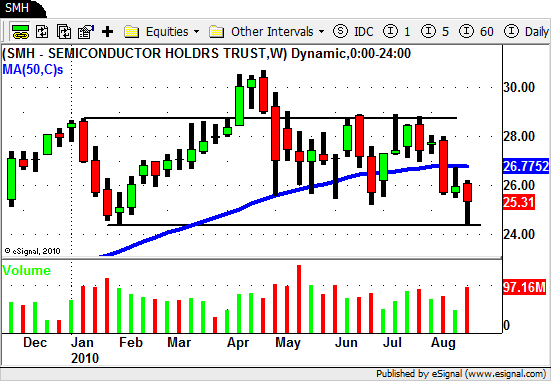 The troublesome Financial ETF's (XLF and IYF) also moved down back down to the lows of the year.
Here is the WEEKLY chart of the XLF…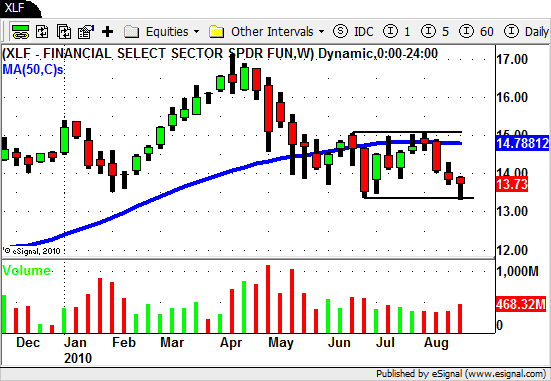 Do these weak sectors bounce off the lows and rally or simply put in a retrace before the move to NEW LOWS?
Well we are now trading back below the 50 Day SMA in the DJIA, S&P and the Nasdaq.
Although this is surely a sign of weakness we know how indecisive the market has been lately.
Do we get a nice retrace back up to the 50 Day SMA next week or do we continue the SELL OFF and head down towards the July lows?
No one knows for sure but as always have a plan in place for either outcome.
Until next week…Good Trading to YOU!